Er is een nieuwe functionaliteit toegevoegd aan intussen… BLOG. Een fotootje toevoegen aan jouw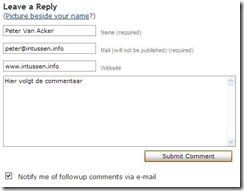 commentaar kon al, maar nu kan je ook aankruisen onder het vak voor commentaar of je op de hoogte wenst te blijven van vervolgcommentaar op een welbepaalde bijdrage. Van alle nieuwe commentaar na jouw commentaar wordt je dan op de hoogte gebracht via e-mail. Da's handig en bevordert de uitwisseling van gedachten.
Hoe doe je dat nu? Welnu, heel eenvoudig door "Notify me of followup comments via email" aan te vinken onder "Leave a Reply".
Peter
Print This Post

Email This Post