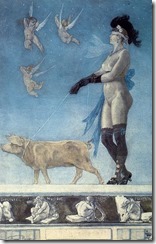 Ik ben geïntrigeerd door volgende passage uit een brief van Félicien Rops aan zijn vriend Nadar:
"You have to realise that I am not a remarkable person at all, but incomprehensible even to myself. While in the cradle I was showered with gifts from many beautiful people who acted as fairies having been invited by my mother to bestow a multitude of different talents upon her son. But the forgotten fairy, the terrible twisted and bandy legged one that is always left out appeared as well. Leaning over my cot, she said  I cannot take away the gifts you have just received from these ladies, but I can give you one of my own. Your whole life long, you will never do that which you like best!"
"Wat zou hij dan wel het liefst gedaan hebben," vraag ik me af? Félicien Rops was een begaafd en erkend etser uit de 19de eeuw, afkomstig uit Namen, bevriend met Baudelaire en bewonderd door een serie schrijvers uit zijn tijd. Hij was een medestichter van de "Société des Beaux Arts", vrijzinnig en lid van de loge van het Grote Oosten. Na zijn scheiding trok hij naar Parijs om er samen te leven met de zussen Aurélie en Léontine Duluc.
Het lijkt mij alvast niet dat hij veel dingen tegen zijn zin heeft gedaan. Wat denk jij?
Peter
P.S. Het "Musée Félicien Rops" in Namen is best wel een bezoekje waard.
Print This Post

Email This Post