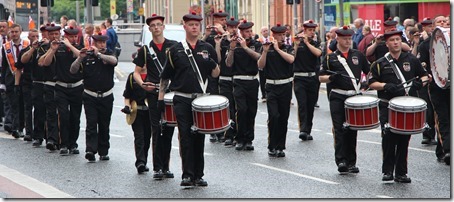 We hadden het geluk, of het ongeluk, het is maar hoe je het bekijkt, om getuige te zijn van de Oranjemarsen in Belfast. Op 12 juli wordt daar de overwinning in 1690 van Willem van Oranje op Koning James herdacht; zeg maar van de protestanten op de katholieken. Wat me echter ontgaat is waarom deze Oranjemarsen heden ten dage per se door de katholieke wijken van Belfast moeten trekken. Dat is toch vragen om problemen. Alsof wij Vlamingen de zege van 1302 beslist ergens in Frankrijk zouden moeten vieren.
In tegenstelling tot het agressieve tromgeroffel en de ophitsende fluitpartijen, alsof men nu nog steeds ten strijde trekt, kan muziek ook verbindend werken. Mijn eega heeft gezongen in de "Cobblestone Pub" in Dublin en in "Bennigans Bar" in Derry. Op beide plaatsen oversteeg de muziek futiele verschillen ingegeven door nationaliteit, ras en religie. Dat is de ware kracht van muziek die positief ingezet wordt.
Hieronder een kort fragment van Astrid Belliot in "Bennigans Bar" met de jazzklassieker "All of me".
Peter
Print This Post

Email This Post