Bué the Warrior is een bekende Gentse graffiti-artiest die thans muurschilderingen over heel de wereld maakt. Zijn vrolijke figuurtjes verblijden talloze grijze muren op deze aardkloot.
Bué the Warrior won in de zomer van 2015 de cultuurprijs van de stad Gent en als dank schonk hij onze fiere stede drie muurschilderingen. Eén werk maakte hij zelf in de Edmond Van Hoorebekestraat in Ledeberg, ter hoogte van de Colruyt.
Hij haalde bovendien drie gerenommeerde Mexicaanse straatartiesten naar Gent. Itzel Najera Luna werkte mee aan het werk aan de Colruyt. De andere twee, Jesus Benitez en Smithe Papas toverden dan weer een paar blinde muren aan de Kattenberg en de Victor Hortastraat om tot een visueel spektakel.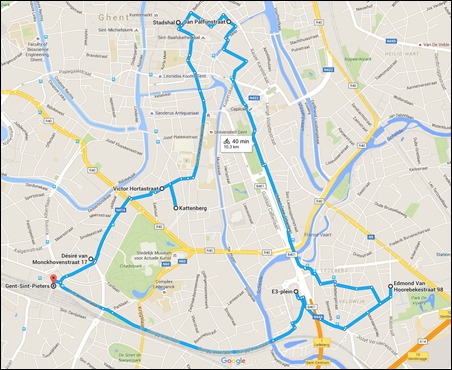 Hierboven heb ik een Gentse fietsroute uitgestippeld van 10 km die je alvast langs de drie muurschilderingen brengt. Om het nog wat aantrekkelijker te maken heb ik er drie andere bezienswaardigheden aan toegevoegd. Vertrek- en eindpunt is het Sint-Pietersstation. Wie de route succesvol aflegt, krijgt een gratis druppel aan de Van Monckhovenstraat!
Je kan natuurlijk ook al een voorproefje nemen door eens op de foto's in onderstaande mozaïek te klikken.
Peter
Print This Post

Email This Post