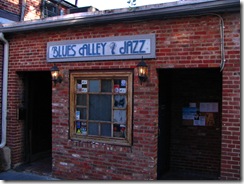 Ze bestaan dus nog echt: van die jazzclubs met de "look and feel" van de jaren twintig. De Blues Alley heeft een ietwat misleidende naam want er wordt hoofdzakelijk jazz gespeeld. Het ligt in een steegje – in het hart van Georgetown – dat aansluit op Wisconsin Avenue, iets voorbij M Street. Binnenin is het groezelig gezellig met tafeltjes gecentreerd rond een laag podium die makkelijk interactie tussen artiesten en publiek mogelijk maakt. Het is een club die reeds vele bekende namen op de affiche heeft gehad. Dizzy Gillespie, Sarah Vaughan, Nancy Wilson, Grover Washington Jr., Ramsey Lewis, Charlie Byrd, Maynard Ferguson en Eva Cassidy hebben er allen in een intieme setting opgetreden.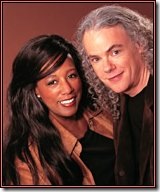 Bij de aanschaf voor de tickets van "Tuck & Patti" was ik ook op nog een andere manier misleid. Het fotootje op de betaalsite deed vermoeden dat het artiestenduo nog goed geconserveerd was. Dit mag dan misschien wel waar zijn voor wat betreft hun artistiek talent, maar Patti is intussen menig kilo rijker geworden. Laat dit wel een detail zijn, want hun muziek is nog steeds jeugdig. Tuck is een gitaarvirtuoos en Patti heeft met haar donkere zang menig hart beroerd. Wij hebben alvast genoten. Wel jammer dat er niet meer gerookt mag worden in de Blues Alley!
Op jouw beurt kan je meegenieten van hun interpretatie van "Time after time" van Cindy Lauper.
Tuck and Patty – Time After Time
Peter
P.S. Please note the alternative comment section. If you don't feel like writing, just press "like it" and/or give it a star.
Print This Post

Email This Post