We hebben dit weekend "Princeton University" in New Jersey bezocht. Princeton behoort tot de groep van de "Ivy League"-universiteiten. Dit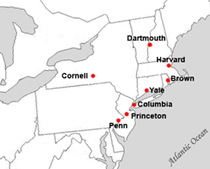 zijn universiteiten uit het Noordoosten van de Verenigde Staten die staan voor academische excellentie, selectiviteit bij de inschrijvingen en een zeker sociaal elitisme.
Zeven van de acht "Ivy League"-universiteiten bestonden reeds voor de Amerikaanse onafhankelijkheid. De uitzondering is "Cornell University" die opgericht werd in 1865.
Michelle Obama heeft in Princeton gestudeerd, maar er zich blijkbaar nooit echt thuis gevoeld. In de inleiding van haar thesis schrijft ze: "I have found that at Princeton, no matter how liberal and open-minded some of my white professors and classmates try to be toward me, I sometimes feel like a visitor on campus; as if I really don't belong. Regardless of the circumstances underwhich I interact with whites at Princeton, it often seems as if, to them, I will always be black first and a student second."
Dit raciaal prisma waarmee de nog jonge "First Lady" naar de wereld kijkt, komt mij vreemd over. Ik heb eerder een ander en dubbel gevoel bij het dwalen op de campus: hier zou ik best als student hebben willen studeren, maar tegelijkertijd zo blij dat ik de academische benepenheid van het universitaire wereldje reeds lang achter de rug heb.
"Princeton University" is vooral een bezoekje waard omwille van zijn schitterend museum dat zowel oude als moderne kunst bevat. Mijn eega was er niet weg te slaan voor de billen van een jonge adolescent.
Peter
Print This Post

Email This Post