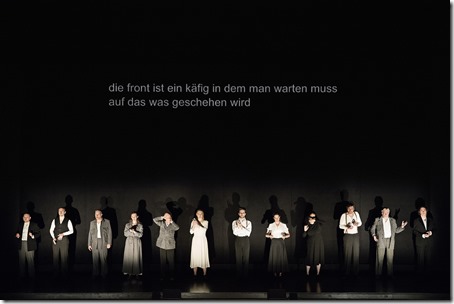 Een ezel stoot zich geen tweede keer aan dezelfde steen. Ik klaarblijkelijk wel! De eerste keer had ik verkozen om niets te zeggen. Ik was niet zeker of het aan de auteur dan wel aan de regisseur van het theaterstuk lag. Orhan Pamuk heeft me nog nooit geboeid. En de theaterbewerking van zijn roman "Sneeuw" door Luc Perceval liet me onbeslist over wie nu de grootste verantwoordelijkheid had voor het debacle dat ik mocht aanschouwen: de schrijver of de theatermaker.
Maar nu heb ik het nieuwste regisseerwerk van Luc Perceval gezien in de Opera van Gent. Het stuk heet "Infinite now". Pijn om te zien, pijn om te horen. En inderdaad, de titel liegt niet: de voorstelling duurt oneindig lang. Het is nog erger dan de wereldoorlog die het poogt te verbeelden. Het operapersoneel betreedt, nadat het doek is gevallen, al handenklappend de zaal om toch maar een applaus aan het publiek te onttrekken. "Uit compassie met de acteurs," vertrouwde eentje me toe.  Dat zegt toch genoeg. Luc Perceval is een gevaar voor het voortbestaan van theater. Voor mijn part mag Perm-36, het enig overblijvende goelagkamp in Rusland, terug in zijn  oude glorie hersteld worden. Maak plaats voor de regisseur en de critici die lovend waren over dit stuk. En zonder recht op terugkeer.
Heeft er nog iemand zijn geld verkwanseld aan Luc Perceval?
Peter
Print This Post

Email This Post